Update 13/10/2017.
# LATEST PRODUCT RELEASE!
Christine Norwegian Blonde Beauty Hair Play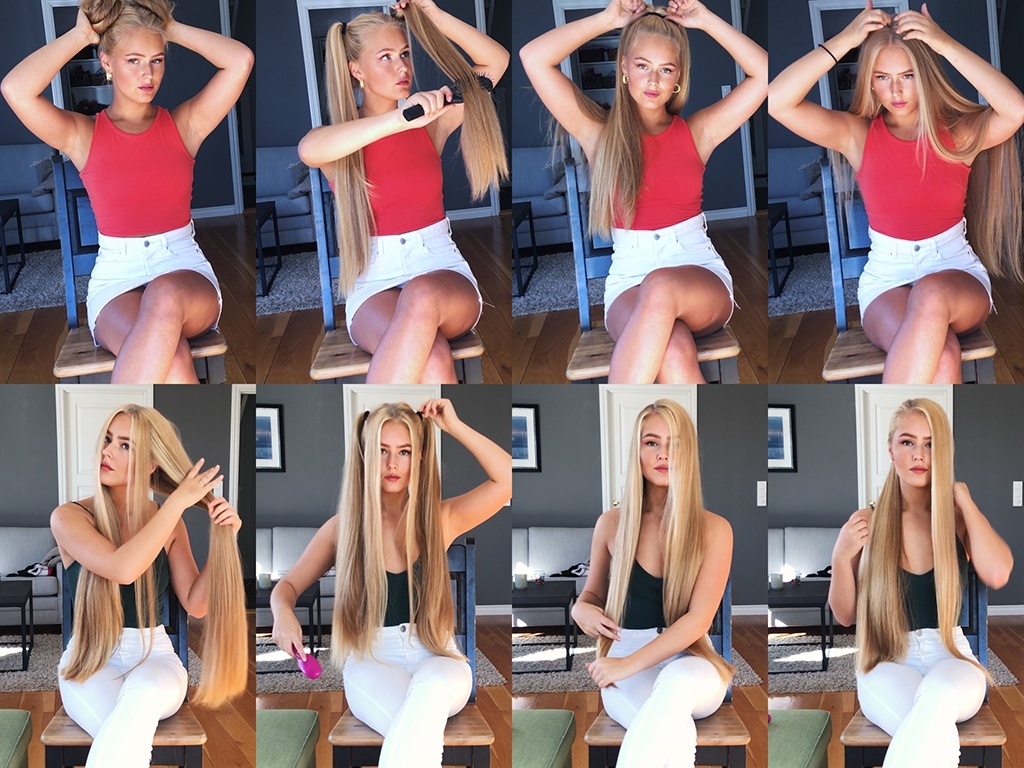 Christine is a gorgeous Norwegian model with absolutely magnificent hip length thick blonde hair in amazing healthy condition! Lots of brushing, finger brushing, and styling into various cute styles. She filmed two videos on separate days, hence the change in clothing.
First half:
– Double buns
– Loose hair in middle part
– High pigtails
– Loose hair in middle part
– High ponytail
– Loose hair in side part
Second half:
– High ponytail
– Loose hair in middle part
– Pigtails with forelocks loose framing the face
– Loose hair in side part
– Normal ponytail with forelocks loose in side part
– Loose hair in middle part
This long hair play video is one of the best ever! Christine truly knows how to play with her hair, and is confident and playful in front of the camera!
This video is scripted by Hair2U and produced by RealRapunzels, with copyright shared between us.
Video length: 36 min
Direct link to purchase:
# PRE-PURCHASE DEAL!
Hi people!
I am going to try for the second time, a pre-purchase / crowd-funding experiment.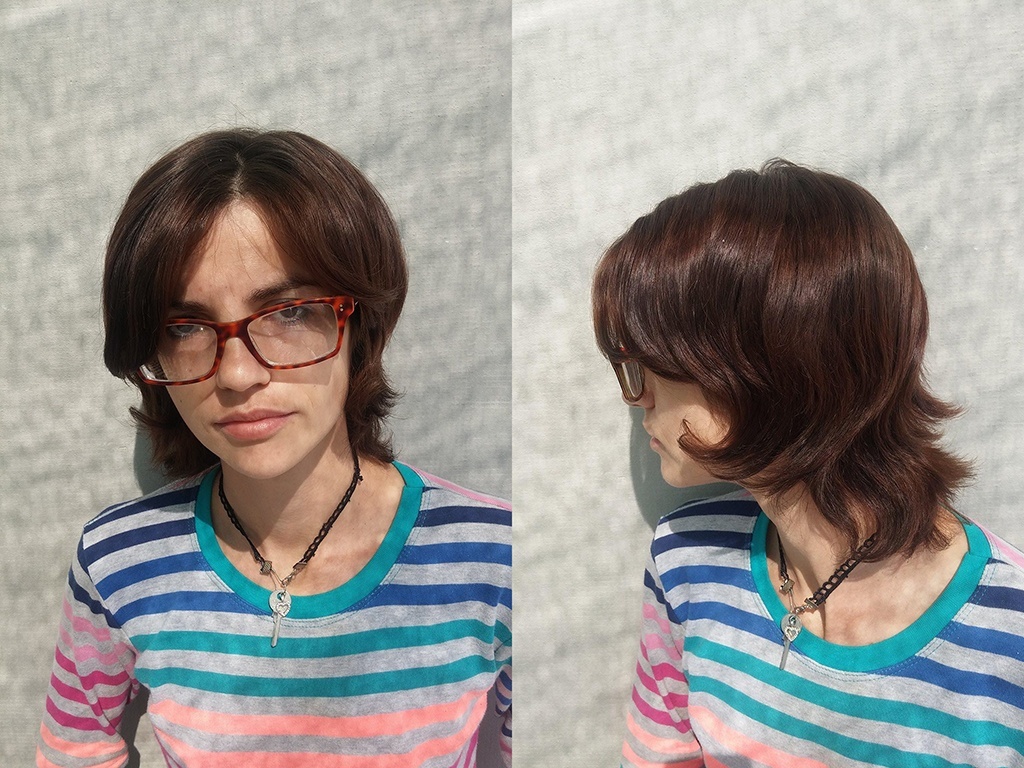 This is a pre-purchase product. Meaning that we have not yet produced the video, but are raising funds for the video to be produced through a pre-purchase system. Pre-purchase now, and get the video later when it has been produced.
Model Anisa was one of our best haircut models. Anisa's long to buzzcut video was produced in October 2016. Product link here for reference:
Almost exactly one year on, she has expressed interest to do it again, but this time she wants it shaved to the scalp with a razor for a smooth bald finish. She has been growing her hair out all year for the experience.
The pre-purchase fund raising will be done over the month of October. After that, we plan to do the haircut sometime in November. The price is set on a donation basis, with a minimum price of USD $7.
No one is obliged to donate more than the minimum of course. But we do have incentive for generous customers. If you would like to have a say in the script of the video (for example, if you want a particular in-between style she wears before the final shave), you may "bid" for it by sponsoring more than the minimum price. At the end of October, the customer who contributed the most will have a say in the script of the video.
After the video is produced, this placeholder zip file will be replaced with the actual video file. Customers who have pre-purchased the product will be sent new download links when the video is ready.
To pre-purchase, head here:
# PREVIOUS PRODUCT RELEASE!
Miss Jing Long to Pixie Haircut in Stages
Miss Jing wants a drastic makeover from her long hair. We decided to give her various styles, cutting her hair gradually shorter in stages. At each step, she presents the style and does hair play.
The total video run time is lengthy, so we split it into two parts.
Part 1: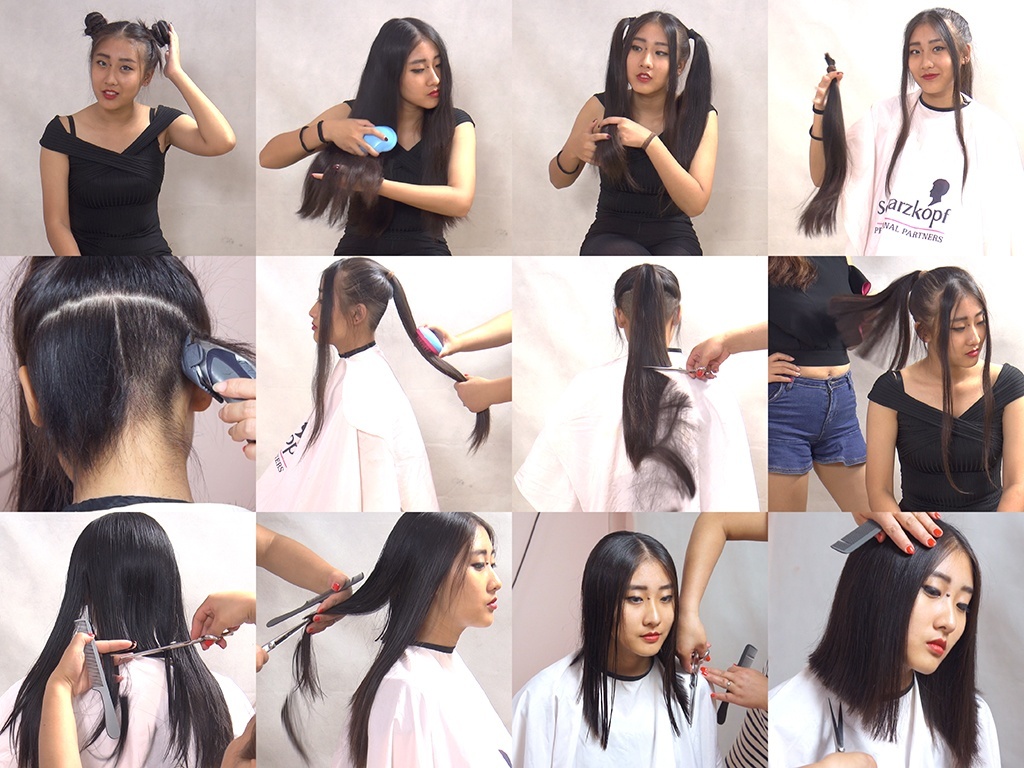 Introduction greeting (in English)
Double buns
Loose hair brushing
High pigtails with front hair loose style
High ponytail with front hair loose style
Nape hair cut in ponytail
Nape hair buzz with clippers
High ponytail sliced to shoulder length
Angled shoulder length style
Angled long bob
Video length: 77 min
To purchase part 1:
Part 2: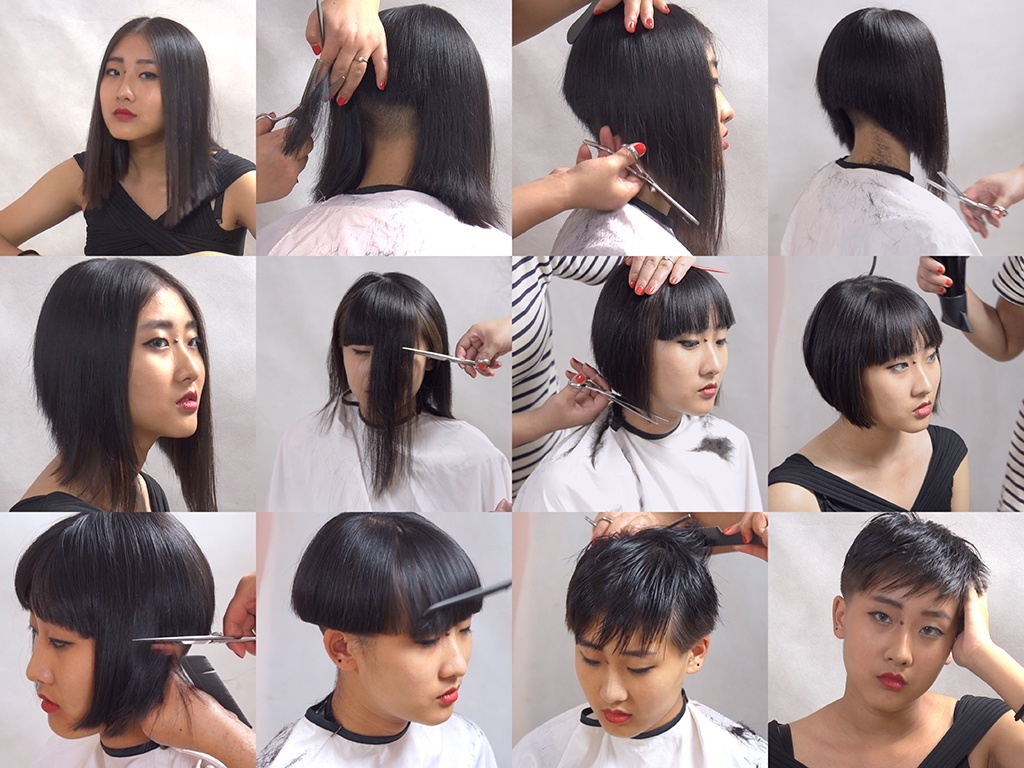 Extreme steep angled long bob
Bangs cut
Angled chin length bob
Bowlcut style
Pixie final style
Playing with cut hair on the floor
Ending greeting (in English)
Video length: 68 min
To purchase part 2:
Preview video (scenes from both parts):
# MODELS AVAILABLE FOR CUSTOM VIDEO!
We have haircut and long hair models available for customized video orders. Click on the tabs on the menu bar to view the models' photos. If you are interested to script your customized video and sponsor the models, please contact us.